I have a Bose Soundtouch 20 Series II (Airplay version), and I recently came across this python library
https://github.com/CharlesBlonde/libsoundtouch
for accessing and controlling it.
I have created two simple (i.e., can be improved!) python scripts: selector and volume control.
Selector
This script uses a Domoticz selector switch to select from the 6 stored presets; I have extended it to add two streaming URLs, as well as the Soundtouch's AUX input: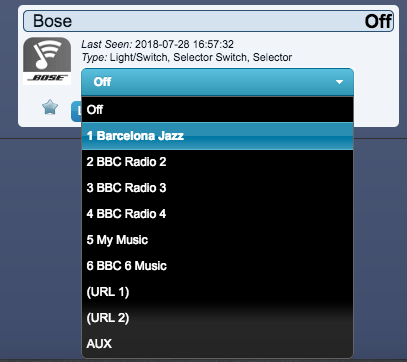 (I'm using 10 levels - 0 to 90 - but this can be extended / reduced as required.)
The code (see later) takes a single argument (0 to 9), corresponding to the above levels, and the selector actions have been set up as follows: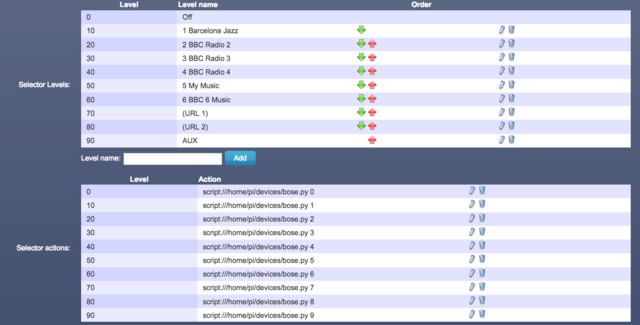 Obviously, change this to correspond to the names for your presets!
Code:
Spoiler: show
Save this with the name and location specified in the selector actions (I used /home/pi/devices/bose.py).
Volume control
Set up a dummy switch in Domoticz, and change it to type 'dimmer' (0 - 100%).

This uses the following python script:
Spoiler: show
This needs to be run in background, e.g.,
Code: Select all
python /home/pi/devices/bose_volume.py &
or started on boot in crontab.
(In both scripts, insert your own values in angle brackets: <...>)
I'm interested in any comments / suggestions for improvement.